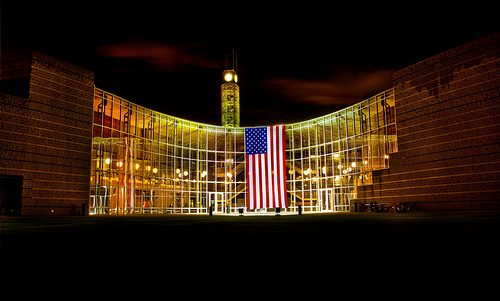 With pressure from the community and revenue projections that seem to be too conservative for what is actually anticipated, the Irvine City Council voted 3-1 to preserve funding for the Irvine Barclay Theater, the Orange County Human Relations Commission, the OC Legal Aid Services and the Discovery Science Center with Republican Council member Christina Shea siding with Council members Larry Agran and Beth Krom.
A number of angry residents showed up to speak out against the devastating cuts and Irvine Mayor Steven Choi limited the public's input by reducing public comments from 3 minutes to 2 minutes simply demonstrating that if you don't like his leadership or the direction of the Republican majority, this Mayor will take steps to limit public participation. And he did limit what he didn't want to hear.
The cuts have drawn the ire of a broad spectrum of Irvine voters; only one resident spoke in favor of the cuts last night.  Choi's and Lalloway's no vote on the budget cuts show they're out of step with the community at large on these services and the Barclay's role in the community.
Sources tell the Liberal OC that anticipated revenue for the coming budget year might add as much as an additional $11 million more than the proposed budget indicates due to the dramatic increase in new housing starts and development in the city.  If this figure holds up (we're trying to confirm), it's going to put a huge dent on the Costamesafication of Irvine efforts that Mayor Choi and Mayor Pro Tem Jeff Lalloway want in order to put the squeeze on the city's public employee unions.
With Irvine's bright budget picture, the plan to move to an austerity spending model doesn't make sense as it shows a lack of anticipation of the growth in the city's population.  Moving to an austerity budget is simply pennywise and pound foolish.
If no one sees Ms. Shea in the next few days, it's likely she was taken to the Woodshed by Lalloway for voting against the Republican majority.  Shea's flip simply proves that the alliance of her, Lalloway and Choi isn't as strong as Irvine Republicans would like you to believe.  But even a broken clock is right twice a day.