The Voice of OC reported on a meeting of concerned Santa Ana residents that there are discussions between city officials and Chivas USA about relocating the MLS franchise to Santa Ana.  The City hasn't announced any specific plans regarding this and Mayor Miguel Pulido did not return phone calls to VOOC for comment.  We made several inquiries to the city's public affairs office yesterday and no one called back either.
From the Voice of OC story: "Residents opposed to the move appear to be circulating a protest petition. They are particularly incensed over rumors that Mayor Miguel Pulido is holding private meetings aimed at bringing the team to the city while avoiding any input from residents.
Tom Lutz, a former council member, hosted the residents at his home. He said he found out about the negotiations and possible move only because of old contacts he has at City Hall.
"It's been very sketchy, because the mayor is having secret meetings and hasn't spoken with the residents," Lutz told the crowd in his backyard. When one resident asked whether the mayor or other council members had been invited, Lutz said,  "They haven't let us in on their meetings."
Pulido did not return a phone call for comment."
Then Downtown, Inc. announced that they wouldn't be taking sides in efforts to woo Chivas USA to Santa Ana.
The city has been down this path before.
The Los Angeles Times reported on details that Chivas would relocate to Santa Ana in 2008, which Mayor Pulido alluded to in his state of the city address, and play on a new stadium at the site of the Willowick Golf Course which is on land owned by the City of Garden Grove.
According to a source inside City Hall, Santa Ana is one of the communities Chivas USA is looking into for a possible relocation and the city's pursuit of the club might actually be more aggressive than Chivas USA's interest in Santa Ana.
The biggest unanswered questions are: who's going to pay for this and how?
There's speculation that Chivas USA will temporarily play games at Santa Ana's Eddie West Stadium which  has a capacity of 9,000 and "basic" amenities such as locker rooms and press boxes (no luxury suites for big corporate money), and poor concessions (can you even buy a beer at Eddie West Stadium?).  Since Chivas USA already plays in the Home Depot Center in Carson and averages 17,000 plus fans a game, the capacity of Eddie West Stadium is going to have to at least double and significant upgrades are going to need to be made to the locker rooms and concession areas (one resident familiar with the stadium laughed at the notion of LA Galaxy star David Beckham taking a shower at Eddie West stadium). So an Environmental Impact Report would need to be done on any upgrade.
The Home Depot Center was built for $150 million in 2003 and has seats for 27,000 fans; it's proximity to CSU-Dominguez Hills provides ample parking but significant traffic nightmares. Some residents hire security guards to keep soccer fans from parking for free in their neighborhoods.  The Galaxy draw about 21,000 fans a game and the Home Depot Center is sold out during the playoffs.
When The Big A was renovated in 1996/97, the cost was $118 million and construction took two years; the Angels paid $88 million and the City of Anaheim paid $30 million.  So Cal Edison signed on for a 20 year multi-million dollar corporate sponsorship and then backed out of the deal the year after the Angels won the World Series.
The proposed Farmer's Field in Los Angeles has an estimated price tag of an even billion dollars which includes a $350 million demolition of a portion of the Los Angeles Convention Center.  And there isn't even an NFL team yet.
According to MLS, the construction of a new soccer stadium to meet the standards of the league is estimated now at $300 million.  And this doesn't include the infrastructure and transportation required to help fans get to the game, park safely, nor does it account for the impact on the neighborhoods surrounding Willowick which is made up of predominately low income housing.  Would the development of a Chivas USA stadium mirror what happened to Latinos in Chavez Ravine when the Dodgers moved in?
I found a short summary of what happened to Latinos in Chavez Ravine on this site and it's cut and pasted below.
The following was featured in Z Magazine, published in November 2005:
The story of Chavez Ravine resonates to this day, especially with the recent Supreme Court ruling that eminent domain is an acceptable and viable law for cities to employ when land is deemed appropriate for commercial development. Little has been written about the communities of Palo Verde, La Loma, and Bishop that made up Chavez Ravine. The tale is unfortunately a common one.
The short form is that a minority community with virtually no representation was forced from their land. The longer story offers a wide and varied cast of characters that includes local Latino activists, HUAC, Richard Nixon, and Harry Chandler, owner of the Los Angeles Times.

As is the case today, there was a great need for housing in post-war Los Angeles. Many of the city's neighborhoods had grown old and were riddled with crime and poverty. The Roosevelt Redevelopment Administration of the New Deal era had mandated that if a neighborhood was too rundown, it should be rebuilt through the cooperation of city and federal agencies and then given back to the people.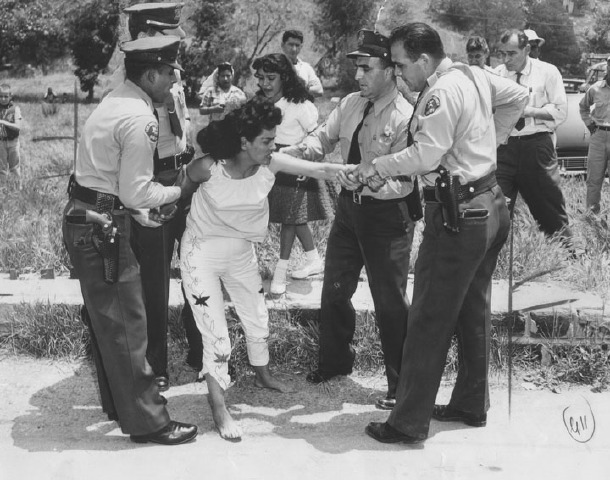 This was the mandate that well-know civil rights activist Frank Wilkerson, then an official of the City Housing Authority, took up. Internationally-renowned architect Richard Neutra was brought in to design a planned community.
Neutra's Elysian Park Heights development plan included low cost housing, parks, schools, shopping centers, and adequate off-street parking facilities.
The Housing Authority then issued eviction notices to the residents of Chavez Ravine, promising the families that they would have first choice of the new housing once the development was completed. The Ravine residents who sold their property to the Housing Authority soon discovered that they had limited choices for where to relocate. Many residents chose instead to ignore the eviction notices and squat on their own property.

The public was fed a steady diet red baiting and racism as the House on Un-American Activities waged a destructive war on citizens' civil rights. By 1953 Neutra's dream design was dead. Wilkerson had been hauled in front of HUAC, labeled a "Red," and subsequently fired from his post. The LA business power structure didn't care for the idea of spending millions on developing real estate for poor people only to give it back to them for a pittance.
The LA Times of the period was barely a step above Hearst's Los Angeles Herald-Tribune yellow journalism, broke it down as subsidized housing was what communist countries did; Americans paid their own way and anything else was un-American. The public bought the line and Mayor Bowron was voted out, along with the housing project.
Newly elected Mayor Poulson quickly cut a deal with the Housing Authority. The city purchased the land at a 75 percent discount over what the feds paid for it in 1949. The single stipulation to the agreement was that the land had to be used for the good of the public.
The city's population had skyrocketed during and immediately after WWII. To Chandler, Los Angeles lacked what any respectable major city east of the Mississippi had-a professional major league sports team.
In 1958 the city's voters passed Proposition B, which settled the matter once and for all by giving the land to the Dodgers. On May 8, 1959 the LAPD arrested the remaining residents in Chavez Ravine, forcibly dragging many from their homes. A phalanx of bulldozers began flattening every structure in their path. On April 10, 1962 the Dodgers played their inaugural game at the new stadium in Chavez Ravine.
Now this isn't to say what happened in Los Angeles nearly 50 years ago will happen in Santa Ana/Garden Grove in 2011 and beyond.  But the question needs to be asked; how will a new soccer stadium affect residents in this neighborhood?
As far as paying for a new stadium in Santa Ana, there are likely state and federal dollars available for a possible light rail system and other road improvements.  Naming rights for a new stadium can be had, but won't cover the complete costs of refurbishing Eddie West Stadium or building a new Chivas USA stadium.  Unlike the Angels, who had a significant stake in the Anaheim stadium location, Chivas USA likely won't pay a dime to relocate anywhere.  So with a pencil, we're going to "ballpark" the total costs of expanding Eddie West, building a new stadium and transportation improvements at between $500 million to $750 million.
How is this going to be financed? 
Will the city float some bonds? Will they raise taxes? How would increased taxes be passed on down to homeowners and renters?   And we keep hearing about the budget crunch the city already has which eliminated needed anti-gang programs and limits park maintenance (we're told that there won't be a park for the Station District due to costs).  It's policy, one official said to the Voice of OC.
The cost of tickets might be prohibitive for Santa Ana residents; sure, the team has packages that can drive the cost down, but for a city with a mean family income of $43K annually, that $59 family fun pack can buy a lot of groceries and a whole package of hot dogs instead of just four.  I challenge you to go to a game and pay no more than the family fun pack price (parking, drinks, a souvenier…things that drive revenue for teams). 
I have no statistics on how many golfers reside in Santa Ana, but all I can say is $37 green fees for a weekend and $24 for a cart is a real bargain to play on a historic course and the course can be used every day.  I got my clubs out and I'm practicing my swing.
If Chivas USA is seeking relocation, it would have to be better than their current deal at the Home Depot Center where players play on a state of the art field with new locker rooms, luxury boxes are available for corporate sponsors and concessions are top notch – all with ample and inexpensive parking.  Should Farmer's Field be built, Chivas could be the first tennant for this facility since there's no NFL team yet.  Or, if the Galaxy (which hosts multiple youth clinics in Irvine but is not moving here) decides to go to LA, Chivas could have the Carson facility all to themselves. 
If identity with Mexican players and Mexican soccer fans is a must, there's no team in San Diego and Chivas USA in San Diego could play at Qualcomm Stadium and draw Latino and non-Latino fans from Greater San Diego and Tijunana alike without sharing the LA market with the Galaxy. San Diego is a top media market with TV, radio and cable in English and Spanish; Santa Ana and Orange County are lumped into the Los Angeles market where soccer fans have a choice of Chivas USA and the Galaxy.
There are some hard questions city officials are going to need to answer. How are you going to pay for it?  Now the city isn't some homeowner who overextended himself to the point that their assets are completely underwater and their current income sends them deeper into debt with every passing month. But the cost of bringing Chivas USA to Santa Ana might be higher than anyone thought.
A move to Santa Ana by Chivas USA and speculation of such a move is — in a word — premature.  City officials have been less than candid about plans, the status of talks with the team and how they plan to finance the move, so for the taxpayers to raise questions is not only completely reasonable but responsible. Homeowners who worry about how the city's actions will impact the value of their homes and the quality of their life need to have answers.
Blindly cheerleading a move without asking the right questions is just dumb.