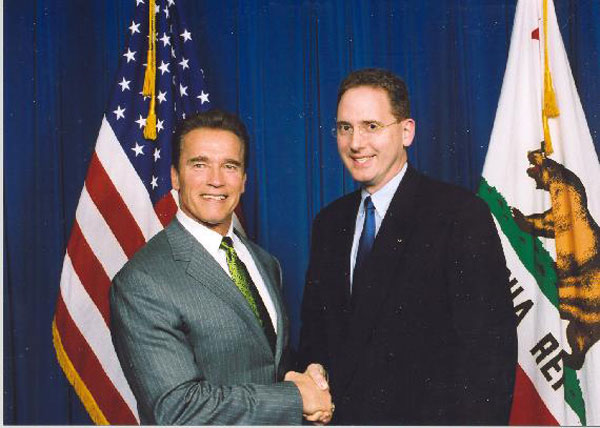 My question is, why can't this guy get a job in the private sector? The nuclear industry clearly needs people who can defend the use of this toxic energy source in the wake of the Japanese nuclear crisis and George W. Bush still needs to learn to pronounce it correctly.
We'll let Chuck make the case; here's the message he sent to supporters today.
$600 Billion.
That's how high California's unfunded government employee pension liabilities could be, even as I write this. For context, California's current deficit stands at about $25 billion.
Sadly, this isn't just the Democrats fault. Republicans, including former Governor Arnold Schwarzenegger, helped make this problem worse.
Many Republicans have talked a good game, but when government union bosses asked for gold-plated pensions, they caved and voted to give them your money… and your children's money.
This is unsustainable. We can do something about this.
I am preparing to run for the Orange County Board of Supervisors.
You can join my campaign today- click here to send a donation to help me fight for Fiscal Conservatism in Orange County.
My likely opponent, former Supervisor Todd Spitzer, is the father of Orange County's pension crisis. 10 years ago Todd Spitzer voted to give billions of your tax dollars to government unions – retroactively. He says he now regrets his vote.
The trouble is that when Spitzer served for six years in the State Assembly he voted with the union bosses time and time again, putting you on the hook for billions more while raking in tens of thousands of dollars in donations from those same government union bosses. The battle to end the era of Big-Government Republicans starts right here, right now, in Orange County.
Soon, voters in Orange County will have a choice: returning to office a Republican who works for the union bosses; or voting for a proven fiscal conservative.
But, to get elected, I need your help. Former Supervisor Spitzer has a warchest of just over $1 million – money left over from years and years of generous government union donations.
To beat Spitzer and safeguard Orange County taxpayers, I don't need to match him dollar-for-dollar, I just need to raise enough to get the word out about his Big Government Republican votes.
I'm urgently counting on you to help me defeat the union bosses and their favorite Republican politician.
You've helped me before. I'm a father, a husband, an Army veteran, a proven vote winner, and a rock solid Conservative who won several "Legislator of the Year" awards.
Please don't hesitate. Click here to send a contribution of $25, $50, $100, $250, $500, $1,000 or more back to me right now!

Sincerely,
Chuck DeVore
Fiscal Conservative for Orange County Supervisor
P.S. Will you help me defeat the union bosses and the Republican they most love in California? I can win this race. But I need your help today. Please send a contribution of at least $50 back to my campaign before the end of this week. Many thanks!