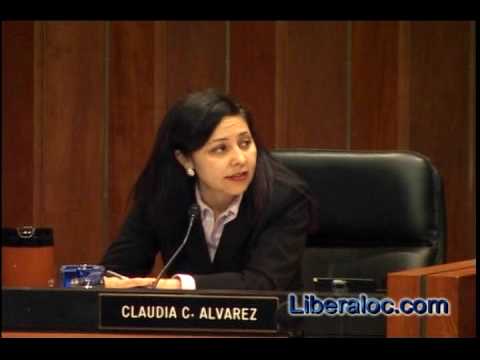 We sent emails to the three likely Santa Ana council members to challenge Janet Nguyen for the first district supervisor's race in 2012. Both Council members Sal Tinajero and Michelle Martinez got back to us to say they would not be candidate's against Nguyen in 2012.  Tinajero suggested, "..maybe Claudia."
Now we haven't heard back from the Santa Ana Mayor Pro Tem and nor do we expect to, but Martinez got back to us late Saturday night with a response to our post hours after it hit (apologies to readers, but I don't check email that much over the weekend).
"At this time, my focus is the Santa Ana City Council. I just got re-elected for another four years! Furthermore, seeking higher office at the local or state level in the future is always a possibility depending on the timing and opportunity." – Michelle Martinez.
Frankly, we're not surprised that Tinajero and Martinez won't oppose Nguyen, but our tipster was non-specific about which of the three we mentioned would run. The process of elimination means if a candidate emerges from the Santa Ana city council for the First District, it's Alvarez. And the chatter around Santa Ana is she's got feelers out to see what sort of support she can count on.
Winning re-election and launching a bid for higher office days or weeks into the new term isn't a new thing.  Former State Rep. Chuck DeVore announced for US Senate shortly after winning his final term in the assembly and Irvine City Council member Beth Krom launched a bid for Congress a couple of months after being elected to the City Council.  The bigger problem for both Tinajero and Martinez is fundraising. Alvarez can raise money but may have trouble appealing to Vietnamese voters in the First District no matter how the new district is drawn up. And it remains to be seen if Alvarez could win a primary against a strong Democratic candidate who can raise money — someone like Phu Nguyen, for example.
Nguyen will not be challenged in a Republican primary. But endorsing Van Tran in his race against Rep. Loretta Sanchez, the OC GOP will likely honor her party loyalty to do everything they can to help her keep her seat. 
I don't see Alvarez generating a lot of excitement from County Democrats, but I'll reserve judgment on this.  But I'm sure she'll score well with unhinged paid-off bloggers in Santa Ana.