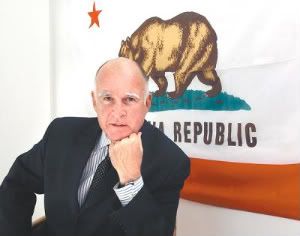 Jerry Brown is governor! For California liberals, those words alone give us great comfort that our state is back in capable, trustworthy hands, and no longer under the purview of politically incompetent Republicans as movie star Arnold Schwarzenegger or his wannabe clone, billionaire Meg Whitman.
In his smartly succinct 13-minute inaugural speech, Jerry affirmed that he will govern using the three principles on which he campaigned:
"Speak the truth. No more smoke and mirrors on the budget. No more empty promises."
"No new taxes unless the people vote for them."
""Return as much as possible decisions and authority to cities, counties and schools, closer to the people."
You can view the entirety of Gov. Brown's speech HERE.
Reflective of widespread liberal joy at Jerry Brown's return to California's helm, the governor's inauguration was packed with thousands of supporters amid a veritable who's who of Golden State Democrats. Spotted in the cheering, smiling crowd were U.S. House Democratic Leader Nancy Pelosi, U.S. Sen. Dianne Feinstein, former Gov. Gray Davis, former Gov. Arnold Schwarzenegger with wife Maria Shriver, Lt. Gov-elect Gavin Newsom, soon-to-be former Lt. Gov. Abel Maldonado, and innumerable members of the California legislature.
As for me, I have enough faith in California's prospects for improvement under Gov. Jerry Brown that I want to continue to be part of the solution: this weekend, I stand for election to a third two-year term as delegate to the California Democratic party from Assembly District #72. I would appreciate your vote if you reside in our North Orange County district.
Have to say as a California native, I loved Gov. Brown's corny, enthusiastic speech ending, taken from the state's unofficial song, "California here I come, Right back where I started from!"
Welcome back, Jerry! We couldn't be more pleased.