[youtube]http://www.youtube.com/watch?v=felo1pMXAz8&feature=player_embedded[/youtube]
I'm not sure what is the most outraegous thing the Palin family has done this week.  Bristol Palin is in the finals of "Dancing With The Stars" with low scores be damned.  Sarah Palin says she thinks she could beat Barack Obama for the presidency in 2012. Or is it Willow Palin's derogatory slur on someone on Facebook?
Let's start with Bristol.  For the third week in a row, a more talented dancer with who achieved their highest score of the competition exist the stage at Dancing With the Stars and Bristol survives.  It's caused quite a stir and there's mounting evidence of organized voting blocks for Ms. Palin. 
What's the harm, you might say? The longer Palin competes, the more money she stands to make from the network.  And Bristol clearly doesn't have the revenue options some of the other stars do.  Face it folks; Bristol is this season's Taylor Hicks and she's going to win because the Tea Partiers are out in force voting for her big time (supporting a liberal network mind you!).
Fromt he LA Times story about this today: "For their part, "Dancing with the Stars" executives dismissed the criticism of the show's voting system. The hit dancing series relies not only on judges' scores, but also public votes, which are averaged together to determine winners. This week's results drew the largest number of votes ever in a semi-final for the show, now in its 11th season.
"Who knows if the process is ideal? But what you can say is it's fair for everyone," said Conrad Green, the show's executive producer, during a phone interview. "It's very clear what you need to do to vote. You'll find many people who are outraged didn't vote at all. They're casual viewers."
Our friends at Total Buzz have a post up about an interview Sarah Palin did with Barbara Walters where she says she thinks she could beat President Obama in the 2012 election.  From the post: "
"I'm looking at the lay of the land now, and … trying to figure that out, if it's a good thing for the country, for the discourse, for my family, if it's a good thing," Palin said in an interview scheduled to air in full Dec. 9 on ABC as part of Walters' "10 Most Fascinating People" of 2010.
Walters then asked, "If you ran for president, could you beat Barack Obama?"
"I believe so," Palin said.
Delusions of grandeur, or just delusions?
And lastly, and most distributingly, this story about underage Palin daughter Willow dissing a Facebook critic of the family's new Reality show.
From the story: "Willow Palin reportedly unloaded on the student, calling him "so gay" and "such a faggot." She later demanded that the student "quit talkin shit about my family." According to screenshots obtained by TMZ, the 16-year-old called another commenter on the Facebook thread a "low life loser" and lashed out at multiple others, writing, "Sorry that all you guys are jealous of my families success and you guys aren't goin to go anywhere with your lives."
Here's the TMZ story.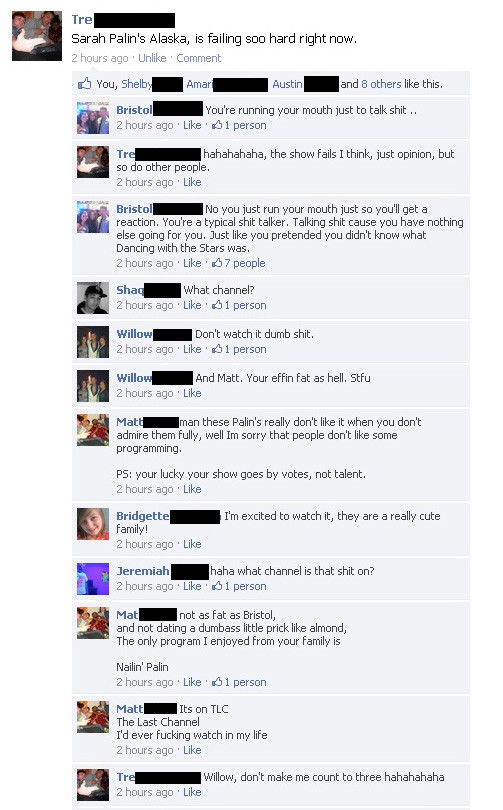 What bothers me about this is where does an impressionable teen get such langauge from? Home? School? Family? Friends?  And is Willow going to get grounded for this?  Please note Bristol Palin herself chimes in on this.