It's Halloween, so for our annual Trick or Treat, we present our picks for the scariest bloggers in the OC blogsphere with tongue firmly planted in cheek.  Let us know if there's anyone we missed.
Bloggers
10.  Claudio Gallegos, The LiberalOC — from disrupting the NUFF forum to insisting that if he saw Miguel Pulido walk on water in front of him that "Pulido can't swim," Claudio is among the more passionate bloggers in the OC. And that's what we love about him. Claudio isn't scary to us, but he certainly scares the crap out of Santa Ana politicos who have to paint him as untruthful or crazy or intoxicated.  He's none of those, but every time they use the unfounded rumors to go after Claudio, it only proves how scary Claudio is to them.
9.  The "bloggers" of the Santa Ana City Council – Did you know that Mayor Pulido, Sal Tinajero and Michelle Martinez all have blogs now?  You didn't?  Well, a video of Martinez's blog featuring all of them carries a theme "I am Santa Ana and Santa Ana is Great?"  Really?!  As Santa Ana has a terrible local economy, is in debt up to it's eyeballs, has the worst crime rate in OC, and the worst high school drop out rates in the county…and Santa Ana is great?!  What's your definition of "in the crapper?"  Do us all a favor and read about the Brown Act, you city council bloggers..and actually try following the law and take more responsibility for the campaign donations you accept when you're voting on city business.
8.  Rep. John Campbell, Green Eyeshade Blog — Please spare me this image that you're a CPA and that Obama's policies are leading us over a cliff when you voted FOR Cash for Clunkers and FOR TARP and pushed for an exclusion of automobile dealerships from Finance Reform.  Earmarks represent one half of one percent of the federal budget and only total $16-$18 billion.  Yet please tell me why you think every federal expenditure is waste.  Scary indeed.  More likely too scared to actually debate your opponent to make the case to voters why you should go back to Washington.  I wonder if the Congressman noticed how many people turned their backs to him at the IPSF event in September due to his (lack of) support for schools.
7. Joe Sipowicz, FFFF — Joe, if that is in fact your name… Joe, is an angry young man who, from comments and blog posts that carry his name, we have ascertained works in a gunshop somewhere in Fullerton.  That in itself is scary.  And five times a day, we think Joe lights votive candles and kneels down to worship at the alter of Shawn Nelson.  Nelson signs up for the generous pension; Joe says it's OK because he never campaigned on what he'd do with his own pension, only that of evil public employee unions.  Harry Sidhu is cleared by the DA on any wrongdoing, Joe insists Harry is a perjurer but doesn't say squat about his own admin's possible perjurious votes in recent elections because he hasn't updated his voter reg forms.  Want to send Joe over the edge? Tell him Nelson is advocating for a 500% increase on taxes for bullet purchases.  "Oh Shawn, I am not worthy to worship you, but only say the word, and I shall blog about it….."
6.  David Winslow, IrvineVoter.com — Technically, a website and not a blog. Winslow is picking up where Steven Smith and the IrvineTattler left off and has already been banned by the Voice of OC for violating their commenting terms of service.  Did you know that Larry Agran has been arrested?  Old news David.  Did you know Sukhee Kang once made fun of the Governor's accent? We all do.  Instead of blogwhoring your site everywhere David, open your website to comments so we can all tell you where to stick it.
5. Art Pedroza, (aka  El Democrata, Zorro, Admin) from the Orange Juice Blog, New Santa Ana, FixTheSAUSD.com, Amezcuafacts.com, the OC Democrats Blog, MayorMiguelPulidoBlog, MichelleMartinezBlog, SalTinajeroBlog, SantaAnaBusinessAssociation (did I miss any?) — Blogs under different names on different sites and refers to himself in the third person often; takes money from candidates to write positive blog posts about them and fails to disclose he's taken money as a paid consultant; Cites that he is a teacher at Cerritos College but fails to mention he teaches there one day a week (on Saturday) and it's a group taught class. Was a business license tax scoufflaw and still owes the city for taxes made on his blog from 2004-2007.  And we haven't even gotten to the three credit card fraud lawsuits, the pending home foreclosure, and the outcome of the federal lawsuits for cybersquatting by linking domains names of his political enemies (namely us) to the North American Man Boy Love Association which advocates sex between men and boys and Gay Porn Sites — all while running for Santa Ana school board.  And if elected, we believe the candidate most likely to sell his vote to the highest bidder.  He needs the money!  We especially find him scary when he criticizes someone for being unethical. 
Unethical.
Art would know all about that.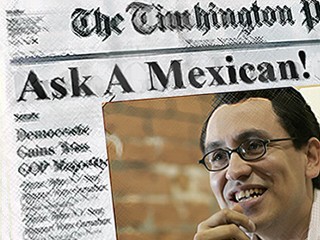 4. Gustavo Arellano, Navel Gazing/OC Weekly — As I write this, I'm watching game three of the World Series and wonder why the Angels can't get players like Vladimir Guerrero or Benjy Molina? That's right, they did.  These guys used to play for the Angels and Gustavo tossed Vlady under the bus even though he was the Angels best hitter during the ALCS in 2009; Gustavo makes the list for his appalling lack of baseball smarts and will make the list until he admits he was wrong about old #27.  And using standards by others in the blogsphere, Gustavo once called me a Polock online so does that make him a hater?  (for the slow ones out there, no, it doesn't).
3.  Jon Fleischman, The Flash Report — I actually met Jon Fleischman this year, and I'm not afraid to say I threw up in my mouth a little bit. If you want to know why the state Republican Party is in such trouble, it's because of "leaders" like Jon.  You have to wonder how many ads The FlashReport will get once he's no longer in a position of Party leadership.
2. Mark Landsbaum, Orange Punch — Landsbaum has graduated from Orange County's biggest global warming/climate change denier to the author of ridiculous polls where good progressives don't have any good choices.  Equates "freedom" with how much you pay in taxes and the role of government in our lives, when freedom is clearly much much more than that.  Let's be honest here; Hell will freeze over before the Register ever endorses a Democrat for anything.  And its a safe bet, Mark never will.
1. Sean Mill, OrangeJuice/NewSantaAna — The master at posting blog posts and commenting on blog posts while on a break from his cubicle job at a Title Company in Irvine despite being told not to do so by the company's CEO. In fairness, Sean only posts during his breaks, which seem to last from 9AM throguh 5PM based on the date/time stamps of his comments.  Does this guy ever work?  We can't tell if he really likes the performance of Mayor Pro tem Claudia Alvarez or is just buttering her up to ask her out.  Per Sean, since Chris Prevatt and I don't live in Santa Ana, we have no right to comment about politics in Santa Ana, but he can comment about politics in Irvine, or Costa Mesa, or Anaheim or anywhere.  Per Sean, he can out clients of mine online or insist Chris Prevatt's PC be checked for blogging at work, but how dare we inquire about his blogging on his employer's dime and time or referencing his exact company.  Sean constantly suggests Claudio is either mentally unbalanced or a drunk, but I've heard Sean growl and mutter threats to Matt Cunningham at the NUFF forum and I have lousy hearing.   I've said it before and I'll say it again, Sean isn't a gang member, but he could be if he applied himself.  Sean subscribes to the notion that if you repeat a lie often enough, it becomes the truth (like that $1,000 Quill bar tab story that was debunked months ago). 
And don't worry Sean, I'm only breaking your chops here.  Nothing personal.
Congrats Sean.  You're our scary blogger of the year.
And for scary blog commenters, in no particular order