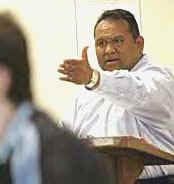 Ward 6 Santa Ana Councilman Sal Tinajero is the target of a new website that criticizes him for what critics call his support of a tax hike and his "lax" public safety record since being elected.  Tinajero is the only council member up for re-election facing opponents in next month's election.
One reason for bringing this site up is that it references a threat made by Tinajero to LiberalOC publisher Chris Prevatt at a Labor Day event in Santa Ana.  It's always interesting to see our content being used for political purposes.
The identities of the persons behind this site ins't revealed and a GoDaddy WhoIs search was lacking in information.