This post started as a commetary of Fullerton city council member Shawn (B.S.) Nelson's "no" vote on the Coyote Hills development project.  For those Fullerton residents who believe the council's 3-2 vote not to develop the last open space in Fullerton was a victory, it's a short respite from Nelson's eventual vote for the project.  Nelson couldn't support the proposal that was before him and he needs every Fullerton vote possible for his Fourth District supervisor's race, so better for Nelson to vote No now, get those Fullerton votes and then turnaround and support the new development when the terms are adjusted by property owner Chevron.
That all said, I started looking for photos of Nelson and went "WTF?"  Awesome dye job Shawn.  Here are before and after photos of Half-Nelson (salt 'n pepper).
And the full bottle brunette.  Dude, who's your stylist?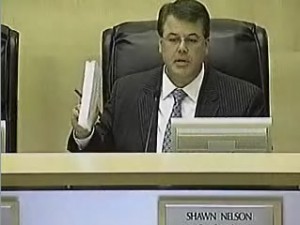 So does he or doesn't he?  Of course, he does.