On the heels of last week's national Tea Party convention, two of OC's leading teabaggers are geting together to headline a Laguna Niguel protest in which most of the attendees got a federal tax cut this year.  State Rep. Chuck DeVore (R-Irvine) who is running for the US Senate seat now held by Senator Barbara Boxer and OC Sheriff candidate Bill Hunt (making copies on county time and the county's dime) will headline the event.
Chuck's been getting a lot of press lately.  Thrice married Newt Gingrich did a shout out to Chuck supports at a forum in Irvine last week.  George Will, the oft-wrong columnist, suggested Chuck would win the GOP nomination for Senate and Chuck was a guest on the Glenn Beck show in Fox News, sitting there and nodding along to Beck's "probing" questions.  Tweedledum and Tweedledee: you pick which one was which.
Meagan Barth, a leader of the local teabaggers (yes, I realize this term upsets them now that they know about the UrbanDictionary.com defintion, but these people continue to use the slur "Democrat" instead of "Democratic" so tough), is leading the charge.  She writes: "… having been involved with grassroots activists and the Tea Party Patriots since last February, I can vouch for a few things:  We don't have a leader, we are not affiliated with the GOP, and "we the People" are just getting started…now, I need to go make my sign."
Please do Meagan (and how's that camapign for mayor of Irvine going?). And while Meagan might believe the Tea Party movement is "we the People" according to a poll on Fox News.com, 81 percent of respondents (as of Saturday morning) feel the Team Party movement is really something quite different.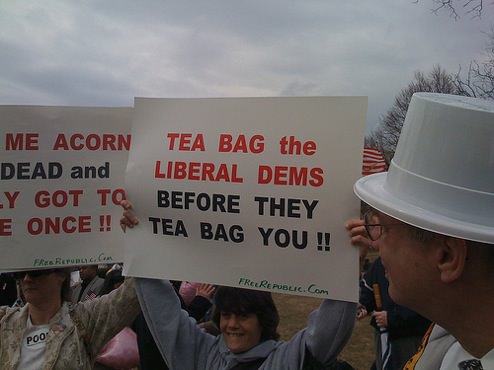 Only 13 percent of the nearly 233,000 voting felt the Tea Party movement was about small government and fiscal responsibility.  Constrast this with 81 percent who believe the Tea Party movement is a "Fruitless mix of racism and conspiracy theories." 
How bad is the image of Teabaggers?  When Captain America, who has a history of fighting America's enemies, comes back from the dead to infiltrate a teabagger movement, in the Marvel Comics publication.
From the story:
Issue 602 of the comic features Captain America investigating a right-wing anti-government militia group called "the Watchdogs". Hoping to infiltrate the group, Captain America and his African-American sidekick The Falcon observe an anti-tax protest from a rooftop.  The protestors depicted are all white and carry signs adorned with slogans almost identical to those seen today in Tea Party rallies like "tea bag libs before they tea bag you" and "stop the socialists."
It's going to be hard for Bill Hunt to not be associated with racism and bigotry giving he had Maricopa County (AZ) Sheriff Joe Arpaio come to OC for a fundraiser and posed for photos with Arpaio and Barbara Coe, the head of the California Coalition for Immigration Reform.
DeVore honestly believes he is the Scott Brown of California.  And even if he manages to win the GOP nomination, Chuck simply doesn't have the cash to compete with Boxer nor are his views in line with mainstream Californias, especially when his previous statements on the effect of gay marriage come out (fathers will marry daughters and mothers will marry sons for the tax breaks…remember that?).
So, by all means, make your teabagging signs and go.  Maybe Steve Choi will be there with a picture of President Obama as Hitler on his back instead of Pelosi as Stalin.