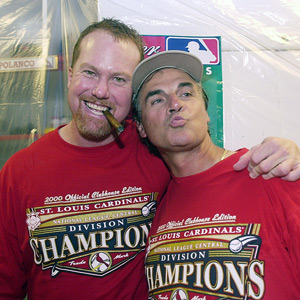 Former St. Louis Cardinals slugger and (former?) Irvine resident Mark McGwire came clean about his use of steroids during the fabulous 1998 season that saw him chase baseball's single season home run mark with Sammy Sosa of the Chicago Cubs. 
McGwire hit 70 dingers that year in a season that helped baseball recover from the 1994 players' strike.  In a statement released by the Cardinals, where McGwire was named a hitting coach in October, said he used steroids "on occasion throughout the nineties, including during the 1998 season." 
An excerpt of McGwire's statement reads:
"I'm sure people will wonder if I could have hit all those home runs had I never taken steroids. I had good years when I didn't take any and I had bad years when I didn't take any. I had good years when I took steroids and I had bad years when I took steroids. But no matter what, I shouldn't have done it and for that I'm truly sorry."
My friend Howard Bryant is a sportswriter for ESPN.com and chronicled the abuse of steroids by major leaguers in a book called "Juicing the Game."  I'm known Howard for more than 15 years and I'm eagerly awaiting his upcoming biography oin Hank Aaron.  But Howard wrote about the disconnect between McGwire's testimony before a congressional subcommittee in 2005 through his late October signing by the Cardinals in this post.
From Howard's post:
"The most memorable moment of that afternoon, of course, belonged to McGwire, who seemed to express deep sympathy for the Hooton and Marrero families, at least before his repeated obbligato — I'm not here to talk about the past — became his pathetic epitaph. He promised that day to use all of his celebrity and all of his fame to help educate young people about the dangers of drug use. He promised to be, in his words, a positive influence in preventing future tragedies. He told Lacy Clay, the Missouri congressman, that he would work with Congress on education and outreach. He said he would use his powers for good.
 When McGwire made those pledges, he spoke as a fellow parent. The testimony that day was not the usual union versus management arm wrestling. It wasn't about hitting a ball with a stick or securing another tax write-off to offset McGwire's millions. It was about families who had lost children. In a world full of inappropriate metaphors, this finally and actually was about life and death. It was, as they like to say today, beyond baseball.
 In the 4½ years since, McGwire has done nothing remotely close to fulfilling his heroic promises of March 17, 2005. Indeed, he has been decidedly un-heroic. Congressman Clay called McGwire soon after the hearings to ask if he wanted to serve on a local anti-drug task force initiative; more than four years later, Clay is still waiting for a return phone call.
 McGwire, now, is one of the most discredited players of his time, evidenced both by his public disappearance and by the lowest Hall of Fame vote totals in history for a player with 500 or more home runs. No player — not even Barry Bonds, who was never beloved by the public in the first place — has ever experienced such a spectacular fall."
McGwire and his wife resided in Irvine's Shady Canyon neighborhood where Congressman John Campbell was his neighbor. Per the Irvine Housing Blog, looks like McGwire sold the property a couple of years ago though Wiki still lists him as an Irvine resident.
Check out "Juicing the Game."