Crickets.
Nothing on the Flash Report. But click here for a stroll down memory lane on Jon's man-crush on Sheriff Mike. And for a laugh, click here and be sure to read the URL of the website and the content of the page.
A story from yesterday directing readers to the Register's Twitter coverage of the hearing on Red County.
And a lame story on OJ with a prediction that Debbie Carona will dump her philandering husband without a shread of evidence to support it (like many OJ articles).  If she's hung in this long, she"ll hang in longer.
And yet there was considerable coverage on Red County dedicated to expenses billed by new Tustin council member Debbie Gavello shortly after assuming office got more coverage than the Carona trial or sentencing on Red County.  Oh the shame.  The travesty.  Get a grip.  Debbie Gavello made a mistake.  Mike Carona willfully chose to break the law he was sworn to uphold.
Let's go back to the Flash Report again and Jon Flesichman's ringing endorsement of Carona's last re-election.  How many Republicans will cringe at reading these words?
"I have known Mike Carona for nearly fifteen years.  He and I first met when he was the Marshal of Orange County (in charge of security for our county courthouses) and I was a special assistant to freshman Congressman Ed Royce.  Over the years, I have come to know Carona as a man of strong integrity with a commitment to freedom and liberty, and a passion for public policy administration.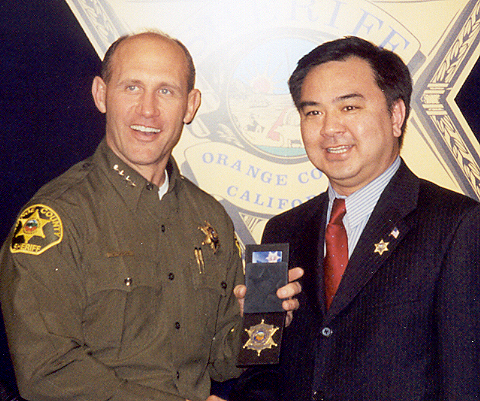 Because of Mike Carona's strong belief in Republican principles, I have seen him be a leader within the GOP.  He has endorsed hundreds of Republican candidates for local, county, state and federal office.  Whether it has been his support of paycheck protection, or his solid opposition to both open primary measures, Carona has done the right thing.  This year you need only look at the big battles in Orange County to know that, despite his own election taking place, Carona is still stepping up for the GOP cause.  He was a solid endorser of Diane Harkey for State Senate, and he is a prominent supporter of John Moorlach for Board of Supervisors.
 
Of course, for FlashReport readers, it is important to see the Sheriff as a great conservative leader (I've never met a Sheriff who is more passionate about second amendment rights than this one!), but the last five and a half years, I have been able to see a great law enforcement leader and manager first hand.  If you didn't know it, I work full-time in the media relations office of the Orange County Sheriff's Department.  In that capacity, I get an insider perspective of Sheriff Carona."
More from Jon….
"There have been a number of news articles (primarily in the OC Weekly and in the LA Times) that have been negative about the Sheriff.  Well, I can tell you as someone who is truly in a position to sort out fact from fiction — most of what they have said simply isn't true.  And the volumes of great things that he and our department achieve on a daily basis that the newspapers don't print is staggering.  Yes, unfortunately somone the Sheriff hired for his senior staff turned out to be involved with criminal activities.  That said, the Sheriff let that person go (before these activities came to light) and the Sheriff tells anyone who asks that he takes responsibility for having brought that person in, and for letting that person go.  Don't believe those out there who want to truly make a mountain out of a mole hill – their sole agenda is to take down an honorable and well-respected public official."
So will Fleischman wait for Carona's appeals to be exhausted before he pens a "I'm ashamed of Mike Carona" piece a la the "I hate Duke Cunningham for what he did to the GOP" piece about a year and a half ago?  Worse still, will he admit that the OC Weekly and LA Times were right about his boss?  That damn liberal media, exposing felony GOP corruption.  Let's diffuse it by showing a Democrat wasting a few hundred bucks.