If you missed the speech like I did (I took my daughter and her friend to the Jonas Brothers Movie Premiere in Hollywood last night), you can watch it here.  The text of the speech is here.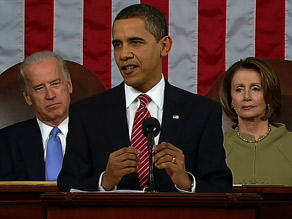 For our friends at the Register's editorial pages, thanks so much for the helpful blog comments.  But limiting blog comments to the National Review Online (conservative) and the Cato Institute (Libertarian) while having no representative liberal blog comments is just not fair and balance coverage.  These pages continue to ignore a growing segment of their potential market by not offering a left-of-center viewpoint.   It's disappointing that the Register continues to dismiss those with a left-of-center viewpoint.
As a public service to OC's left leaning residents, here's some left of center observations from the President's speech and the Republican response from Gov. Bobby "The Exorcist" Jindal.
http://www.thedailybeast.com/blogs-and-stories/2009-02-25/give-him-a-break/
http://www.huffingtonpost.com/2009/02/24/polls-show-obama-won-the_n_169700.html
http://www.huffingtonpost.com/2009/02/25/krugman-jindal-response-g_n_169826.html
http://www.thedailybeast.com/blogs-and-stories/2009-02-24/the-smart-power-list/
http://www.thedailybeast.com/blogs-and-stories/2009-02-24/memo-to-bobby-jindal-dump-rush/
http://www.huffingtonpost.com/2009/02/25/bobby-jindal-response-pan_n_169710.html
http://demfromct.dailykos.com/
http://videocafe.crooksandliars.com/heather/matthews-maddow-olbermann-react-jindal-speech
http://crooksandliars.com/john-amato/president-obama-was-electrifying
http://crooksandliars.com/john-amato/open-thread-obama-addresses-congress