Saddleback pastor Rick Warren will lift the "Cone of Silence" to deliver the invocation at President-elect Obama's January 20th inauguration.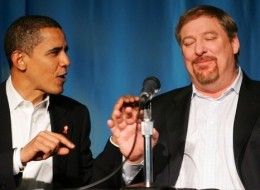 I'm glad President-elect Obama isn't holding any grudges for the sand-bagging he got from Pastor Warran in August when John McCain was NOT in the cone of silence as Pastor Warren claimed to be.
My family and I have begun attending Saddleback services at their facility in Irvine.  Last Sunday's "The Real Meaning of Christmas" sermon was, for the most part, very good.  The sermon was interrupted by short video clips that define words like "Power" and in the clips Republican images flipped across the screen like slo-mo subliminals.  A stoic photo of Ronald Reagan followed by an awful photo of Nancy Pelosi; a GOP elephant logo followed by a poor rendition of an unofficial Democratic Party logo; a stately John McCain followed by a bad photoshop of Barack Obama in a superhero's costume.
God isn't Republican.  Nor is he a Democrat.  Isn't it time church leaders like those at Saddleback remember they should be non-partisan?