R. Scott Moxley has posted a masterpiece on Congressman Dana Rohrabacher on the OC Weekly's Naval Gazing blog.  And I'm still wiping tears from laughter as I type this. Click the link to the photo and sned the OC Weekly lots of hits. But the story sounds like that old Ed Wood flick, "Glen or Glenda?"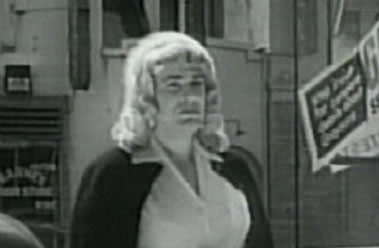 It seems the Congressman paid — dressed as a woman (think of your aging aunt who's heavset with a mustache and too much perfume) a visit to RFK assassin Sirhan Sirhan in prison to get some sort of confession out of him.
more after the jump:
Here's Dana's quote from the Pasadena newspaper:
"I went to see [Sirhan] specifically because I believe he didn't act alone and that the full story of Bobby Kennedy's assassination has not been known," he said. "I would like Sirhan Sirhan to finally, at long last, level with the Kennedy family and the American people, whether to clear his soul as part of his Christian beliefs or try to set the record straight."
Ah, Sirhan was convicted of the crime he committed in a room full of witnesses.
With the voters of his district please, please come to your senses and vote this crazy nutjob out of office so he can pursue his wacky conspiracy theories on his own time?  Please elect Debbie Cook to Congress.