Regular readers of the Flash Report (I read it so you don't have to) note the fawning idol-like coverage publisher Jon Fleishcman regularly bestows upon State Insurance Commissioner Steve Poizner, the only conservative elected to a statewide office (for those saying I forgot Arnold, please.  He's hardly conservative and barely Republican).
Poizner appears poised to make a run for Governor in 2010, and Fleischman will no doubt be one of his biggest cheerleaders — Poizner needs Jon's favorable Flash Report coverage to wrap up the conservative base, but what does Fleischman get of out of it.
Register reporter Brian Joseph had a fascinating story in this morning's register that may provide a clue. (the story appears to be gone from the web site but it appears on Page 3 of the front section; I have emailed Joseph about the story so hopefully the link will work; or better still, buy the paper!).
More after the jump.
The story concerns Ivar Roth, a Newport Beach podiatrist, who sought a face-to-face appointment with Commissioner Poizner to discuss practices of insurance companies.  Poizner's staff couldn't help Roth and offered a meeting with a deputy commissioner. And when the commissioner's staff finally got a meeting, they could only offer Roth a phoner. 
Joseph reports that Roth learned he could get a meeting with Poizner.  But it came with a price tag.  Roth was put in touch with Jon Flieschman, who, in addition to running the Flash Report, also runs a political consulting firm (where he handled free media relations for disgraced, indicted-on-federal-corruption-charges, N-word using, and admitted-phenominal-sex-machine-but-I-have-a-personal-relationship-with-Jesus-Christ, Mike Carona on the day of Carona's indictment asking the media to ask then-sheriff Mike "if he plans to resign.")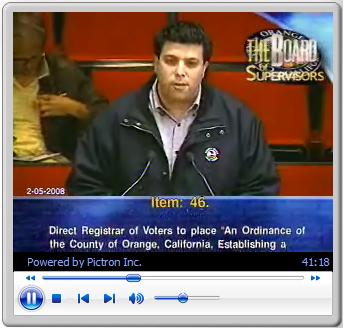 Joseph reported Fleishcman, touting his close personal and professional relationship with Steve Poizner, promised to arranage a meeting with the commissioner for a fee of $2500.
Roth said "It made me feel like the system is dirty."
Poizner and Fleischman, when contacted by the Register, said the Roth/fee/meeting was "all a big misunderstanding."
Sure.
Joseph saw an email from Roth provided to him by Fleischman where Jonny Flash honestly thought the good doctor was looking for more professional services than just a meeting.  Joseph reports that in spite of the misunderstanding, Fleischman still maintains he could get Roth a meeting with Poizner, but the commissioner's office says no consultant can guarantee a meeting.  But how many other consultant's run a prominent Republican and Conservative blog that a Conservative candidate for Governor will need the support of to make a play for 2010?
I don't believe Fleischman's excuse that he'll do it for free; that sort of service is reserved for folks like Mike Carona.  And I don't believe Poizner's office either.
It sure looks and sounds like Pay for Play. Either way, Roth, and voters are getting screwed.