You know, there's so much that we'll need to do as a nation to get back on the right track. We have a war to end, and economy to fix, a climate and a planet to take care of, people to start caring about again. The Bush-Cheney era is finally nearing a close… So now, we must think about how to put all that misery behind us and move forward in a new direction.
And you know what? We actually have an opportunity right here in Orange County to start moving our nation in a new direction. Not only can we help send a Democratic President to the White House next year, but we can also change Congress by replacing the incumbent Bush-Cheney dittohead with someone who will work her hardest to make our government work for us again.
Follow me after the flip for more…
OK, I guess you know by now who I'm talking about. Debbie Cook is running a strong campaign to unseat "Crazy Dana" Rohrabacher and restore some sanity to the 46th District. Rohrabacher may have been able to get away with ignoring the needs of the people while voting in lockstep with the far right Bush agenda before, but he won't be able to get away any longer.
Debbie Cook is a respected community leader who, unlike Rohrabacher, has been working hard for her constituents. Whether it's protecting the Bolsa Chica Wetlands or protecting our ocean water or leading the effort to prepare Southern California for climate change, Cook can be counted on for real results. And at a time when we can't wait on bringing out troops home from a messy occupation, making our economy work for working class people again, taking on reforming a health care system in critical condition, and taking care of the global climate crisis that threatens to destroy the Planet Earth we call home, we need people in Congress like Debbie Cook who won't hesitate to find solutions to the problems we're facing.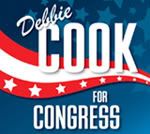 But hey, Debbie Cook can't do any of that if we don't help her win this year. That's why it's critical for us to get involved and help a great local Democrat take back the 46th. Here's what we all can do to make it happen: volunteer and contribute. By doing what we can to help, we're not only turning another OC district blue… We're also doing our part to take back our country.
See what I meant in my title? Think globally… Act locally. Take that to heart. 🙂