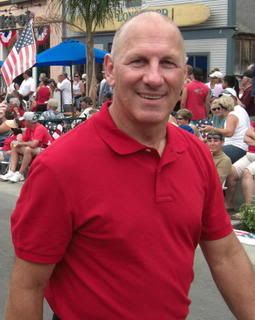 Congrats to Ron Shepston! It looks to me like he got another big endorsement recently with DFA-Orange County. Good for him, and hopefully this means OC progressives will get more active in taking back the 42nd. 🙂
Democracy for America-OC Endorses Shepston
Organization founded by Democratic Party Chairman Dean support Ron Shepston as their choice for the 42nd Congressional District.
Costa Mesa, CA – Democracy for America, Orange County (DFA-OC) endorsed Silverado Canyon resident Ron Shepston as the best candidate for the 42nd Congressional District, California, Wednesday evening. DFA-OC organizer, Susan Kopicki, also personally endorsed Shepston.
"I am especally thankful for the endorsement because of my firm belief in the power of the grassroots. Harnessing grassroots action is the center peice of my camapign – this is how we'll take down Gary miller and turn the 42nd blue." 
Democracy for America is our nation's largest progressive political action community. With over 675,000 members nationwide, DFA is a grassroots powerhouse working to change our country and the Democratic Party from the bottom-up. We provide campaign training, organizing resources, and media exposure so our members have the power to support progressive issues and candidates up and down the ballot. Join us in the fight to take our country back!
Governor Howard Dean founded Democracy for America in 2004 to build on the grassroots momentum for reform that his bid for the presidency sparked. The movement propelled DFA into a successful national organization committed to the "50 State Strategy."
In early 2005, DFA ran a people-powered campaign to elect Governor Dean to chair the Democratic National Committee. Democrats nationwide badly wanted reform and found the answer in Dean. In February 2005 Governor Dean resigned from the leadership of DFA to take his new post as chair of the Democratic National Committee.
Jim Dean is the current Chair of Democracy for America (DFA). As DFA's key spokesperson and fundraiser, Jim keeps DFA in the national spotlight. Jim brings DFA's mission across the country to all 50 states. He meets with candidates, organizers, party leaders and activists, inspiring everyone to get involved and take back our country. Jim has been involved with DFA since our founding in 2004. He has a long history of political involvement and was a key fundraiser for his brother, Howard's campaigns for President, Governor and Lt. Governor.
Ron Shepston, an avionics engineer and veteran, is a 27-year resident of Orange County, currently residing in the 42nd Congressional District in Silverado Canyon with his wife Belinda, a teacher's aide. Ron enlisted in the Air Force in 1966 and worked on Minuteman I & II ICBM missile systems at Malmstrom AFB, Great Falls, MT. After an Honorable discharge in 1970, Ron worked in construction while putting himself through school with the help of the G.I. Bill, where he received a Bachelor Of Science In Electrical Engineering with a focus in Physics, and currently consults for Panasonic Avionics Corporation in Lake Forest.
Ron and his three brothers were raised primarily by his mother, a WWII veteran, who often worked two jobs to support their family. His mother's example taught Ron the value of hard work, persistence and responsibility. She continues to be Shepston's inspiration to this day.
Shepston played semi-professional baseball in Florida and is an avid and competitive cyclist, biking 150 miles a week. Shepston is an active contributor to several national and local blogs.