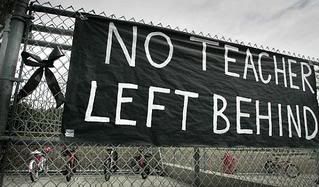 "It's an emotional time," said Bismack, 29, of San Clemente, now in her third year at Canyon Vista. "I have a five-year degree and I'm working on a master's degree. I was looked at as a highly qualified teacher, and now I'm looking for an alternative job for next year."
I think the banner at Canyon Vista Elementary School in Aliso Viejo says it all.  Teachers are being left behind not because they are no longer needed to teach but because the California Legislative Branch does not deem that Education is a high enough priority for California Residents.  The Capistrano Unified School district is set to lay off 265 k-12 teachers and for those who say it won't affect teaching, they aren't paying attention. 
The layoffs will place an additional 11 students in each classroom, which has 20 students per instructor.

Other school-wide impacts include the elimination of Teaming for the Learning of All Children, a specialized program that groups students with similar learning abilities in the classroom.

"The ones who need education the most will slip through the cracks," said first-grade teacher Meagan Baedeker, 31 of Laguna Hills, who was reassigned to teach math at a middle school. "Now they'll have to teach to the average child. The ones who get it, get it. The ones who don't will suffer."
The numbers are staggering for Aliso Viejo Elementary Schools, Oak Grove is losing 21 of their 37 teachers (And, disclosure?  Charlotte, my five year old, starts at Oak Grove in September), Don Juan Avila is losing 16 of their 34 teachers.  The students wore all black to show their support for their teachers. Since these schools are fairly new their faculty have much less time in the school district and anyone who has taught less than ten years is being given a pink slip.
 

In an act of support for those with pink slips, faculty members at Don Juan Avila Elementary School on Tuesday wore white T-shirts with the slogan "No child left behind" – the word "teacher" was inserted into the phrase with a red arrow.

To contrast with the faculty in white, students wore all black to demonstrate support for their teachers. Eight-year-old McKenna Moody came to school in black leggings, T-shirt and sweat shirt for Katie Prince, her third-grade teacher.

McKenna's reason for wearing black was remembrance.

"I'm learning so much in Miss Prince's class," she said. "I want my teacher to stay because she's really nice."

 

 
Is it worth it?  Do you think laying off all these teachers is worth it, teachers who are tenured and who can't simply go to another school district to find another job, they may even find that they have to leave the State? 
Educators are taken for granted by many, especially legislators who don't even have children in the public school system, I wonder if it makes it easier for them to make these kinds of cuts since they know it won't directly affect their own children?  But the thing is, it's not aboutjust their kids, they are elected to take care of all our children and it just doesn't seem like they have their priorities straight. 
Music and Arts is a vital part of any well balanced teaching curriculum because we want to produce not just warm bodies to fill jobs but thinking and feeling citizens to encourage and support the arts in their communities when they are grown and have children of their own.
With layoff notices already issued, many parents said they were feeling the impacts of the cuts on their children's schools. A group of Mission Viejo High music booster club parents expressed outrage that the elementary school vocal music program is on the chopping block.

"If we don't get kids interested in music at an early level, we're not going to have any kids to feed into the (high school) program," said parent Kelley Saunders, 49, president of Mission Viejo High's instrumental music boosters, who has a son in drum line. "Theoretically I shouldn't care because my son is a senior, but this has a long-lasting impact that will be felt three to four years out."

…

Other parents worried that academic quality in the classroom would suffer, with some saying they would likely send their children to private school if programs like full-day class-size reduction, International Baccalaureate and vocal music are eliminated.

"For some people, private school isn't an option," said parent Rebecca Clampitt, 36, of Trabuco Canyon, who has two children at Robinson Elementary School. "A lot of private schools are a whole grade level above public school. People don't realize that academically there's a lot of pressure in private schools."

Whatever parents may be forced to consider, many walked away feeling that their children had been abandoned by the state.

"We're already one of the poorest-paying states to fund students," said parent Thom Griffith, 45, who has two children at Del Cerro Elementary School in Mission Viejo. "The district cuts are disappointing, but I don't know what other cuts they can make."
Saddleback School District is also facing a high number of lay offs, just as all the other school districts in Orange County.  Parents are not okay with this as they shouldn't be.  People want to say that throwing more money at a problem won't help but taking teachers out of classrooms and increasing class size is certainly not going to fix the budget problem in the long term and it won't make education any better for our children either.
UPDATE – I wanted to add some famous quotes to this piece to remind everyone that how we treat our children, even if you don't have any of your own in the school system, says much about what we value as a community and a culture.
Lady Bird Johnson, former U.S. First Lady  
"Children are likely to live up to what you believe of them."
Herbert Hoover, 31st U.S. President 
"Children are our most valuable natural resource."
Nelson Mandela, former president of South Africa 
"There can be no keener revelation of a society's soul than the way in which it treats its children."
Lee Iacocca
"In a completely rational society, the best of us would aspire to be teachers and the rest of us would have to settle for something less, because passing civilization along from one generation to the next ought to be the highest honor and the highest responsibility anyone could have."