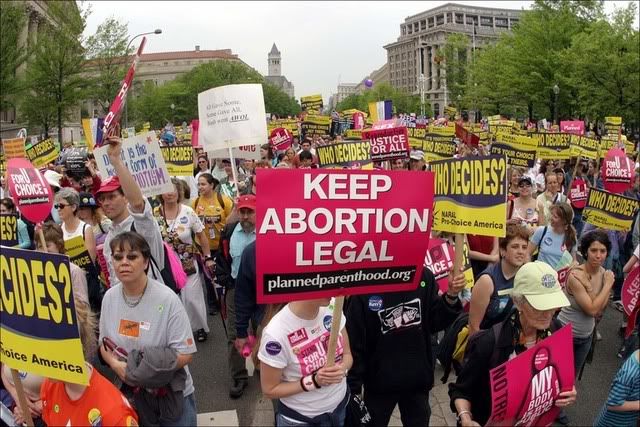 Today marks the 35th anniversary of the Supreme Court's decision on Roe V. Wade. And even though the Court decided in favor of protecting a woman's right to choose, we are still fighting to keep the decision upheld. With the appointment of two new Supreme Court Justices and the imminent retirement of three or more current judges (John Paul Stevens is 87, Ruth Bader Ginsburg is 74, Stephen Breyer is 69, David Souter is 68) the next President will have tremendous power over this decision through the appointment of new Judges.
Things have not changed much about the Country's attitude about abortion and the abortion rate is lower than it has been in years.
Public opinion on abortion has remained remarkably stable over the years. A CNN/Opinion Research survey in October found 36 percent of Americans think abortion should be legal in most or all circumstances, 40 percent believe it should be available in a few circumstances, such as to save the mother's life, and 22 percent say abortion should never be legal. That is almost unchanged in the past 15 years.

The Roe decision did not prompt "abortion on demand," as many opponents of the procedure predicted it would. Nor have various legislatures or court rulings restricted access as much as some supporters claim.

New research from the Alan Guttmacher Institute found the rate of abortions is at its lowest level since Roe, and the total number is also in decline, about 1.2 million in the year 2005, down 25 percent since the all-time high in 1990.

For the Supreme Court justices, Roe reflected earlier cases involving the right to privacy. That "right," wrote Justice Harry Blackmun in the main opinion for the court, is "broad enough to encompass a woman's decision whether or not to terminate her pregnancy."
We cannot take this right for granted, all you have to do is Google Roe V. Wade under news and many of the articles are about repealing the law and protecting the life of the fetus. The fight is not over and we need to remember that our vote has a tremendous influence, all the Democratic Presidential Candidates support abortion rights and in turn we have to support the eventual nominee if we want to continue to have the freedom to choose.
Even without a majority on the court, abortion foes have been chipping away at Roe one law at a time, and they have made alarming headway, culminating in a high court decision last April that for the first time since 1973 upheld a ban on a procedure — controversial "partial-birth" abortions.

A return to the days when states were free to ban abortion would be disastrous and deadly. A recent review of U.S. abortion statistics backs up what pro-choice activists have long asserted: Those most likely to get an abortion tend to be those least able to afford to travel to another state to get one. According to the Guttmacher Institute, the abortion rate among women living below the federal poverty line is almost four times higher than that among more affluent women. Statewide bans would lead to back-alley procedures by desperate women, who would die needlessly because politicians shut down clean and safe clinics.
I think it's very important to vocally show your support for abortion rights if you believe they are indeed a right. We cannot take this right for granted.
Below are the statements released by John Edwards, Barack Obama, Hillary Clinton and Dennis Kucinich (I couldn't find anyting on his site and in the news, I will post something as soon as he raleases a statement) On The 35th Anniversary Of Roe v. Wade.
Chapel Hill, North Carolina – John Edwards released the following statement on the 35th anniversary of Roe v. Wade.

"Roe v. Wade was an important step on the road to full equality, opportunity and dignity for women. On the 35th anniversary, it is important to reflect how far we've come as a nation, but more importantly how far we still have to go.

"I strongly support a woman's right to privacy and reproductive choices. That right has been under attack though — by President Bush and his anti-choice agenda and by the Supreme Court, which has been moving the right-wing's agenda faster than we've seen in decades. The hard right turn of the Supreme Court is a stark reminder of why Democrats cannot afford to lose the 2008 election. Too much is at stake – starting with a woman's right to choose.

"As President, I will guarantee the right to choose and ensure that women can make choices in their lives with dignity and can participate in our society fully, as equals."

Senator Obama on the 35th anniversary of Roe v Wade decision

Thirty-five years after the Supreme Court decided Roe v. Wade, it's never been more important to protect a woman's right to choose. Last year, the Supreme Court decided by a vote of 5-4 to uphold the Federal Abortion Ban, and in doing so undermined an important principle of Roe v. Wade: that we must always protect women's health. With one more vacancy on the Supreme Court, we could be looking at a majority hostile to a women's fundamental right to choose for the first time since Roe v. Wade. The next president may be asked to nominate that Supreme Court justice. That is what is at stake in this election.

Throughout my career, I've been a consistent and strong supporter of reproductive justice, and have consistently had a 100% pro-choice rating with Planned Parenthood and NARAL Pro-Choice America.

When South Dakota passed a law banning all abortions in a direct effort to have Roe overruled, I was the only candidate for President to raise money to help the citizens of South Dakota repeal that law. When anti-choice protesters blocked the opening of an Illinois Planned Parenthood clinic in a community where affordable health care is in short supply, I was the only candidate for President who spoke out against it. And I will continue to defend this right by passing the Freedom of Choice Act as president.
Moreover, I believe in and have supported common-sense solutions like increasing access to affordable birth control to help prevent unintended pregnancies. In the Illinois state Senate, when Congress failed to require insurance plans to cover FDA-approved contraceptives, I made sure those contraceptives were covered for women in Illinois. In the U.S. Senate, I've worked with Senator Claire McCaskill (D-MO) on a bill that would make birth control more affordable for low-income and college women, and introduced the Senate version of Representative Hilda Solis' bill to reduce unintended pregnancies in communities of color. As President, I will improve access to affordable health care and work to ensure that our teens are getting the information and services they need to stay safe and healthy.
But we also know that Roe v. Wade is about more than a woman's right to choose; it's about equality. It's about whether our daughters are going to have the same opportunities as our sons. And so to truly honor that decision, we need to update the social contract so that women can free themselves, and their children, from violent relationships; so that a mom can stay home with a sick child without getting a pink slip; so that she can go to work knowing that there's affordable, quality childcare for her children; and so that the American dream is within reach for every family in this country. This anniversary reminds us that it's not enough to protect the gains of the past – we have to build a future that's filled with hope and possibility for all Americans.

On Anniversary Of Roe, Clinton Announces Agenda For Reproductive Health Care

The Clinton campaign today reinforced its commitment to protect a woman's right to make the most fundamental decisions about her life and health and announced a comprehensive agenda for women's reducing unintended pregnancy and enhancing access to reproductive health care. The announcement comes on the 35th anniversary of the landmark Supreme Court decision Roe v. Wade and follows the news of the endorsement of WCLA – Choice Matters, one of the oldest pro-choice advocacy organizations in the nation.

"When I'm President, I will appoint judges to our courts who understand that Roe v. Wade isn't just binding legal precedent, it is the touchstone of our reproductive freedom, the embodiment of our most fundamental rights, and no one – no judge, no governor, no Senator, no President – has the right to take it away."

The agenda includes preventing unintended pregnancies by increasing access to honest, accurate sex education, contraception and family planning services, ensuring that private health plans offer the same level of coverage for contraception as they do for other prescription drugs and services, ensuring that women who survive sexual assault have access to emergency contraception upon request. Clinton also calls for providing greater access to reproductive health care services overseas.

"On the 35th anniversary of Roe v. Wade, I am reaffirming my commitment to safe, legal, and rare abortion, and unveiling an agenda for decreasing the number of unintended pregnancies in the U.S. through honest and complete sex education and expanded access to contraception and family planning," said Clinton.

WCLA joins other prominent pro-choice organizations endorsing Hillary Clinton for President, including the National Organization for Women PAC, EMILY's List, Women's Campaign Forum, National Women's Political Caucus, Women's Political Committee.