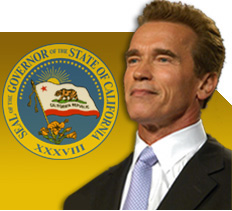 Sometimes, you can just let the Flash Report posts speak for themselves:
Sometimes you write about something on the blog so that you stop having to write about it over (and over) privately.  For those who were unaware, last week Governor Schwarzenegger held a private meeting with some of my colleagues on the California Republican Party Board of Directors at the State Capitol.  These members included Immediate Past Chairman Duf Sundheim, Republican National Committeeman Tim Morgan, County Chairmans Association President Keen Butcher, and Regional Vice Chairmen Jerry Maltby, Mark Pruner, and Aquinetta Warren.  There were a couple of other non-CRP Board Members in the meeting as well.

I do not know what they discussed in their meeting.
I do not know why this particular group of CRP leaders was chosen.
I do know that I was not invited, nor were any of the CRP's elected officers (Chairman, Vice Chairman, Treasurer or Secretary).
If you have any questions about this meeting, you may want to direct them to one of the attendees.
One hopes that this is the first of many intimate meetings that the Governor has with Republican leaders, and hopefully some others of us will have a chance to dialogue with him as well.
Maybe we'll finally stop hearing about the phone call from Arnold in 2005. Wishful thinking.